These types of financial aid can come from the federal government, your state government, Kalamazoo College itself, or a private or nonprofit organization. To be considered for scholarships and grants, complete the Kalamazoo College application for admission and submit the FAFSA. Return any requested forms to the proper entities. Such options for scholarships and grants include:
Merit Scholarships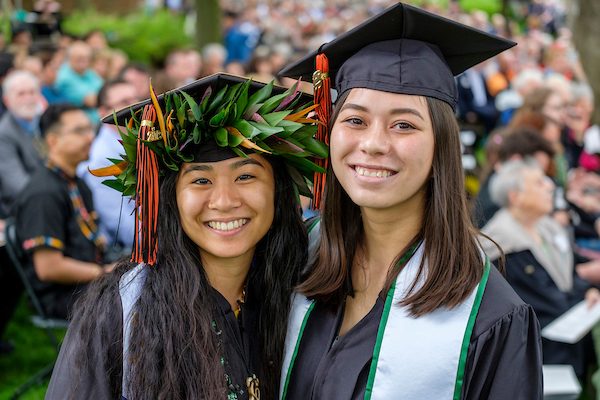 The Kalamazoo Merit Scholarships may be awarded through the College to incoming first-year or transfer students by the Office of Admission. This scholarship program is not need-based, so no financial aid application is required for renewal.
The Enlightened Leadership Awards for music and theatre have a separate essay/formal application process defined by the Office of Admission. These awards are not need-based, so no financial aid application is required for renewal.
Need-Based Scholarships
The Kalamazoo Grant, which is awarded based on need from college funds. All students only need to submit the FAFSA to be considered for this grant.
The Mandelle Award is a Kalamazoo College award for students who meet certain requirements by completing the Free Application for Federal Student Aid (FAFSA). This funding is renewable for four years if the student remains in good academic standing.
Need-Based Grants
Federal awards such as Pell Grants and the Federal Supplemental Educational Opportunity Grant (SEOG) are awarded from federal funds granted to Kalamazoo College. Both are need-based awards with SEOG priority given to Pell Grant recipients.
Endowed Scholarships
Endowed scholarships, provided through the generosity of individuals who have donated money to the College. Recipients of such awards will receive information about the donor and will be expected to write a letter of thanks to the donor.
State Awards
State awards such as the Michigan Competitive Scholarship, which is based on need and merit, and the Michigan Tuition Grant, which is based only on need. Both are available through the Student Scholarships and Grants Division.
Private Scholarships
Scholarships are available from a variety of different private organizations. Visit the Grants, Scholarships, and Fellowships page for details on available opportunities.